WordPress is a popular content management system (CMS) that allows you to create a website or blog from scratch, or to improve an existing website. Authors are a critical part of any WordPress site, and you need to ensure they are added correctly if you want your site to look and feel professional. This guide will show you how to add an author in WordPress, step by step.
What is an Author in WordPress?
An author in WordPress is a person or group of people who create and manage the content on a WordPress site. Authors are responsible for writing articles, creating posts, and managing blog posts. They also have the responsibility to keep their website updated with fresh content.
On the other hand an author in WordPress is a user who has written at least one post on the site. Authors have the ability to edit their own posts, as well as delete them.
Users who are not logged in to WordPress cannot see the author's name. However, if an author is logged in, they will see their own name next to their post.
If you would like to become an author on a WordPress site, you will need to create a user and contact the administrator of the site if you are not owner of site.
What are the different user roles in WordPress?
As a site owner, you have the ability to control who can access your site and what they can do once they are logged in. This is done through assigning user roles. In WordPress, there are five default user roles: Super Admin, Administrator, Editor, Author, and Subscriber. As the site owner, you will be the Super Admin. Depending on the needs of your site, you may want to assign someone as an Administrator or Editor. Authors and Subscribers are typically reserved for public-facing sites where users can submit content or leave comments.
Administrator
As a content management system, WordPress offers users different roles and capabilities. Administrators are the highest level of user in WordPress. They have full control over the site including the ability to add, edit, and delete any content, as well as manage users and settings.
While administrators have a lot of power, they also have a lot of responsibility. It's important to understand all the administrator roles and capabilities before making any changes to a WordPress site. This will help ensure that only the appropriate people have access to sensitive information and that no one accidentally breaks something.
Editor
An editor in WordPress is a user who can create, edit, publish, and delete posts and pages. They can also moderate comments and manage categories and tags. Editors do not have access to the site's settings or plugins.
If you want to become an editor on a WordPress site, you will need to be invited by the administrator or another editor. Once you have been given the role of editor, you will be able to access the post editor screen where you can start creating content.
Author
An author is someone who creates content for a WordPress site. This content can be in the form of posts, pages, or even custom post types. Authors have the ability to edit their own content and publish it on the site. They can also delete their own content if needed.
Contributor
If you're new to WordPress and have never used it before, you may be wondering what the "contributor" role is. As a contributor, you can create and edit your own posts, but they will not be published until an administrator or editor approves them. This is useful for when you want to submit content for someone else to review before it goes live.
Once your post is approved, it will appear on the site just like any other post. However, you will not be able to edit it after it has been published. If you need to make changes, you will need to contact an administrator or editor and ask them to make the changes for you.
Note: It is important to remember that contributors can't upload media files like images. It is possible to bypass this by asking contributors to upload their image(s), using a file upload form.
Subscriber
As a subscriber, you are able to read and comment on posts and pages, but not create or edit them. This makes sense when you think about it in the context of a blog – you wouldn't want just anyone to be able to write a post!
The subscriber role is the most basic level of user in WordPress. Subscribers can manage their profile, including changing their password and email address, but they cannot access any settings pages.
If you're running a membership site or an online course, then subscribers might be the perfect role for your users. By keeping them away from the backend of your site, you can reduce the risk of them accidentally breaking something.
Method of adding an author in your WordPress Website
On the left-hand side of your WordPress dashboard, click on "Users".
Then, click "Add New".
Fill in the user details including the Username, First Name, Last Name, and Email.
Set your "Password" for logging in to your dashboard.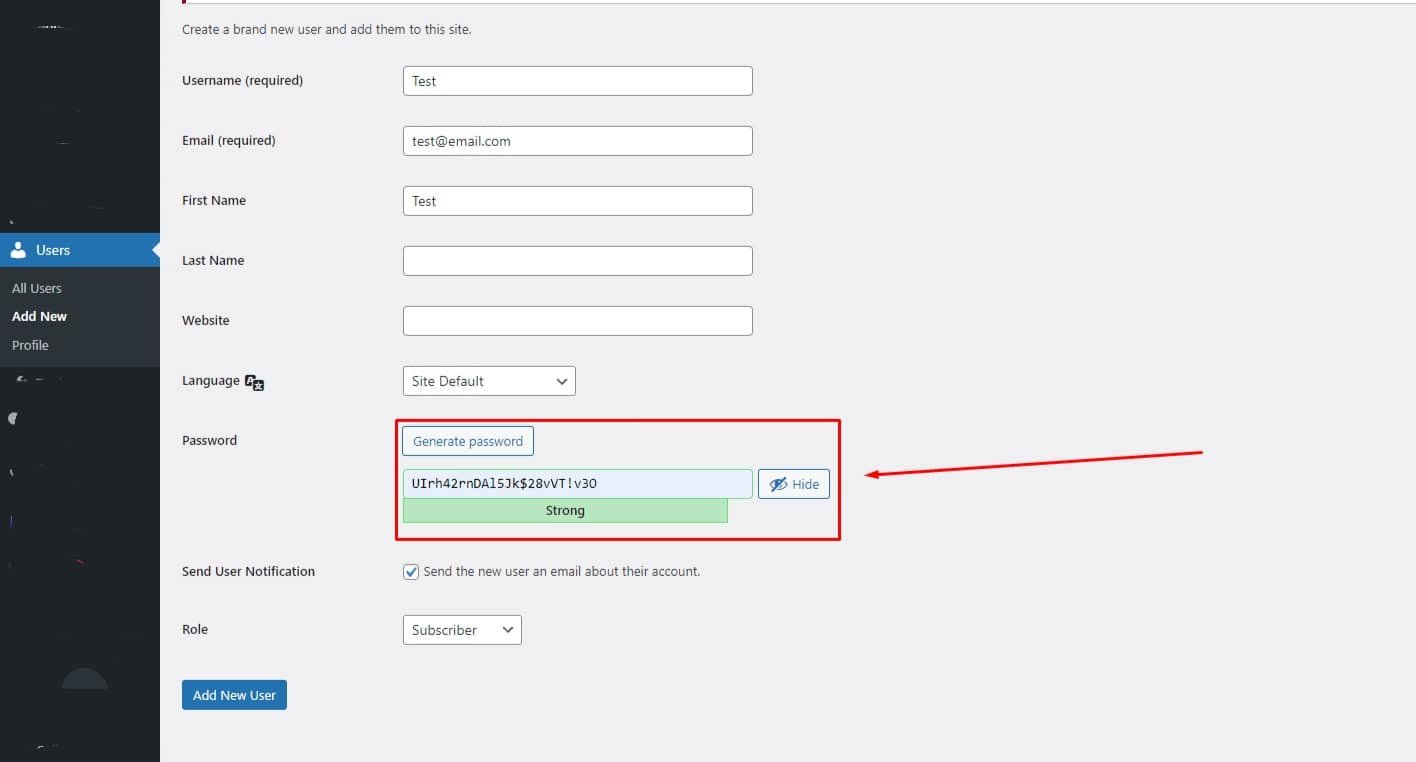 Select the "Role" for the new user if you want to add an author you have to select the author role.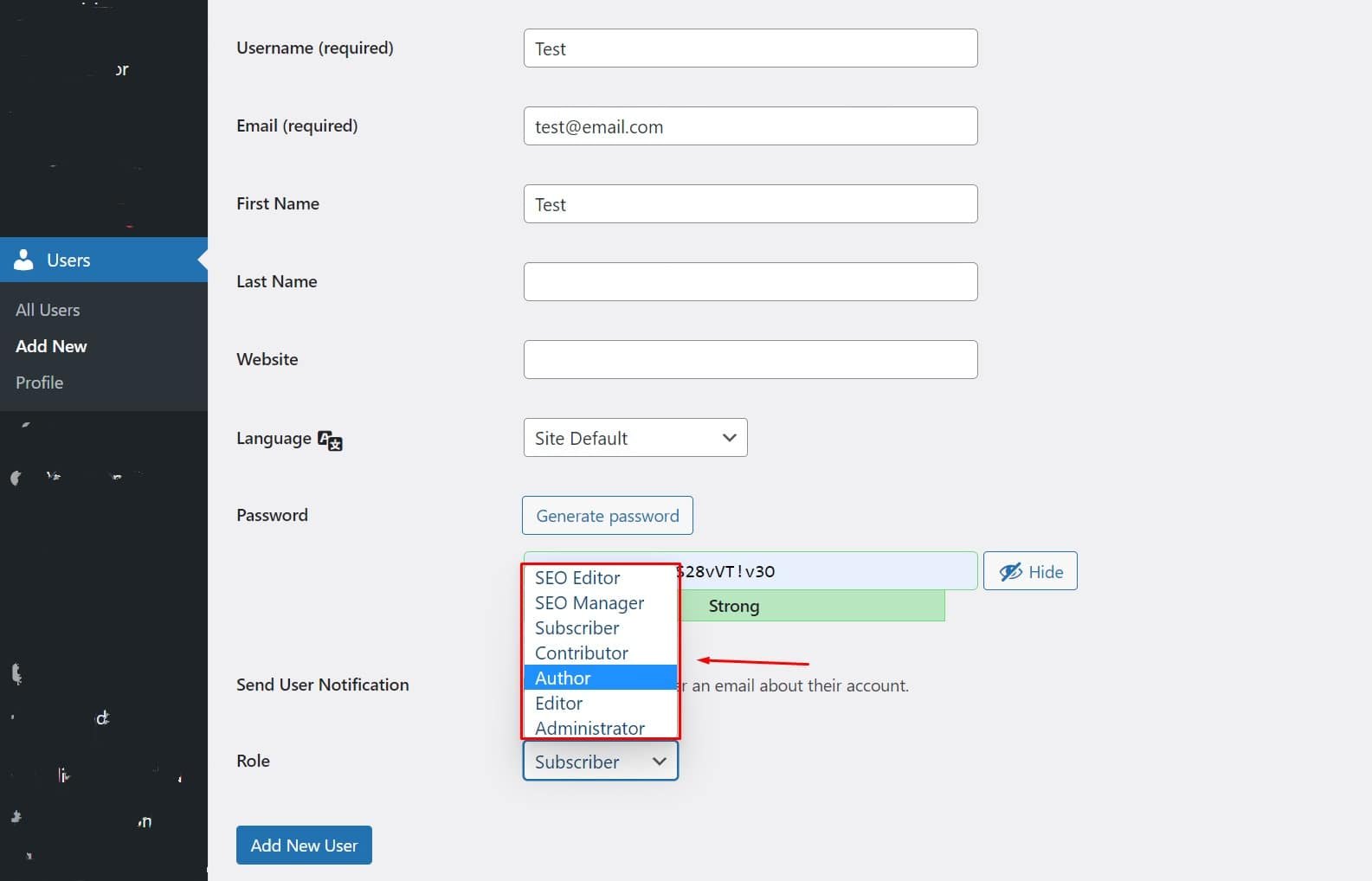 Once you have filled in all the required fields, click on the "Add New User" button.
That's it! You have successfully added a new user to your WordPress site.
Why You Might Want To Add an Author in WordPress
When you create a WordPress site, you can add an author. This allows you to have multiple people contributing to your site. Here are some reasons why you might want to add an author in WordPress.
One reason to add an author in WordPress is if you have multiple people writing for your site. This can be helpful if you have a team of writers or if you want to guest post on other people's sites. Adding an author also allows you to give each person their own profile page on your site.
Another reason to add an author is if you want to create a community around your site. By adding authors, you can allow people to comment on each other's posts and interact with each other. This can create a sense of community and belonging for your readers.
Lastly, adding an author can help with SEO (Search Engine Optimization).
Conclusion
In conclusion, adding an author to your WordPress site is a fairly simple process. You will need to create a user account for the author, assign the author role to the user, and then add the author's name and bio to their profile. Once you have done this, the author will be able to login and start writing articles for your site. If you still not know how to add author to your WordPress site you can contact us for further help.